CBD you can trust
from Vitabiotics

From the UK's No.1
Vitamin Company

Made in Britain
Authentic Pharma quality CBD
Our CBD (cannabidiol) isolate is a food supplement made to pharmaceutical quality, with guaranteed purity* in every drop. Premium class, natural flavour, no bitterness, in an easy-to-use dropper format.
Why choose Vitabiotics Brains CBD

HIGHEST QUALITY
Active pharmaceutical quality grade with rare API material

NO PURER NATURAL SOURCE CBD
Provides 99%* purity CBD isolate. Guaranteed THC free

INDUSTRY LEADING STATUS
Novel Foods application validated by the FSA, a status granted to under 1% of almost 12,000 CBD products currently under FSA review (Correct as of July 2022)

LAB TESTED
CBD isolate tested for banned substances in sport & purity
Quality From Seed to Store

1. Hemp seeds grown and selected from a carefully selected variety.

2. Isolate extracted at UK GMP approved facility.

3. Manufacturing using industry validated processes.

4. Released only after final quality control testing.
View Independent Quality Report For Your Batch
Type in the batch number, which can be found printed on the side of the box and label. The lab tests and certificates of analysis for each batch are provided below.
Search results for -
No result found, please check your batch number again.
For further information, please contact productcare@vitabiotics.com.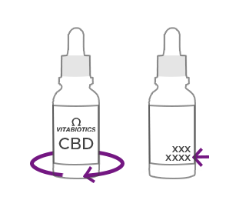 Vitabiotics CBD FAQ
CBD (cannabidiol) is a naturally occurring compound which is derived directly from the hemp plant (Cannabis sativa L. Hemp). CBD is produced using the leaves of the plant and sometimes the stalk.
We all have an endocannabinoid system (ECS) within our bodies. This means that pure CBD (cannabidiol) is not foreign and can exist alongside cannabinoids the body produces by itself. This is why Vitabiotics Brains CBD can be integrated into your daily routine so safely. Study and research on CBD and the ECS are advancing fast and becoming key to our better understanding of the body.
We have three products within the Vitabiotics Brains CBD range at two different strengths; 500mg, 500mg plus Vitamin D and 1000mg.
All products within the Vitabiotics Brains CBD range can be taken every day for ongoing support but the Vitabiotics Brains CBD 1000mg strength can be used during periods of extra requirement.
Yes. Vitabiotics Brains CBD is extracted from Cannabis sativa L. (Hemp) in a highly controlled environment, to give you guaranteed purity. It is tested, validated and only released once it has passed rigorous quality specifications.
The Vitabiotics Brains CBD 99%* isolate is a food supplement made to the highest pharmaceutical standards, using an authentic certified, grade of material.
The World Health Organisation's (June 2018) Critical Review Report on CBD stated that to date, there is no evidence of pure CBD ever resulting in abuse or dependence of any sort.
We would recommend ensuring that the product you are taking has lab reports available to verify it does not contain THC or any other impurities. Please find Vitabiotics Brains CBD lab reports above.
Food supplements must not replace a varied and balanced diet and a healthy lifestyle. Consult your doctor or pharmacist before using if you
are under medical supervision, taking medication, pregnant, breast-feeding, have epilepsy, suffer from food allergies, or are allergic to any of the ingredients. Not suitable for
anyone under the age of 18, people taking any medication, those trying to conceive and those who are pregnant or breast feeding. Do not exceed 70mg of CBD per day. To be taken sublingually (under tongue).
Generally, as CBD is a food supplement it can be taken on domestic flights and other means of transport within the UK.
For international travel we could advise that you check and consider carefully before taking CBD on board any flight. This is because regulations can vary greatly from country to country, and can be very different to the UK, especially when outside the EU. Regulations can be subject to change, and we would strongly recommend checking the regulatory status of the specific country you're travelling to or passing though in advance. In certain countries any form of CBD is illegal. In other countries CBD may be legal, but there may be additional regulations around maximum levels of THC.
At 30ml, our CBD oils do not exceed the 100ml hand luggage restriction imposed by many airlines and should be placed in a transparent bag. Again, we recommend you check with your flight/travel provider in advance.